Deep Dish at Workshop 17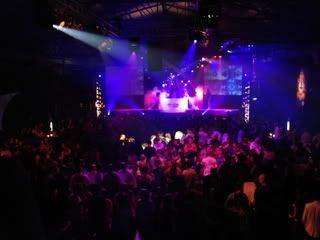 The view of the party from the upstairs section
I had received an invite to Deep Dish via Facebook from a friend. I was not really too sure about going as I did not know too many people who would be attending. I then heard that it was an exclusive event and that you could not just say you were going and then get a ticket. I thought it would be worthwhile to see what this was all about. I had heard about these types of parties, where the venue is kept under wraps and you are not sure if you have a ticket until the very last moment. It was a Camel sponsored party and I decided that I would have to be there, even if I knew no one else there!
I received an sms from the organisers about two days before the event telling me that I had got a ticket, and I was then told to check my e-mail where I could confirm that I was attending. I confirmed and was then given a ticket to print out with a unique code and a map telling me exactly where Workshop 17 is. Workshop 17 is located in at the Victoria & Alfred Waterfront in Cape Town, right near the Two Oceans Aquarium. It was on it seemed.
We went through to Alba in the Waterfront beforehand for a drink, and then after that made the short walk to Workshop 17.
Well damn!
The first thing I noticed when I walked in was that this was going to be a crazy party. It was not merely some empty workshop, it was kitted out! I walked in and on my right hand side was a model being body painted, in the tiniest of g-strings. As the night went on we would come to realise that Camel spared no expense when it came to dancers. Camel had truly outdone themselves.
I took a look around and noticed the two bars, one on the left and one on the right hand side of the venue, where Camel cigarettes were being given out free on the evening. The night started off with Ryan Dent mixing it up, before Deep Dish entertained the crowd from a bit later in the evening. Later on we would have Ryan Dent on the dance floor near us, listening to Deep Dish. This was the party to be at, and we were there.
There was an upstairs section with plush couches and a bar, where you could chill out away from the craziness of the crowd dancing downstairs. At the stairs leading towards this section, there was a guy doing graffitti art on a piece of wall, and he was spraying various Camel logo's onto the board. This gave the party a sort of old school/street vibe. Almost as if you were having a street party, with everyone doing their own thing.
It felt like we were in another world at this party. Like we were at some sort of Studio 54 party. It felt like a wonderland, a place where only the best go to party. My head was spinning like a lathe all night, trying to keep up with the women dancing on the stage, the women swinging from the ceiling and all the other girls who had come out to party. It was insane.
Later on in the evening we had dancers come on stage in gold hotpants and various sorts of spandex jump suits. It was at this time that I started sending messages to my friends who were not there telling them that they were missing out! I spent the better part of the evening just dumbstruck as to what Camel had organised for us. I don't think I left the dance floor from about 12pm to when I left at around 4am.
One of the reasons for this was that we had girls swinging over our heads for the better part of the evening blowing glitter onto us. I felt like I was on a movie set. I was living the dream.
We are all used to going to clubs and having a DJ stand there pretty much just playing a CD. But nothing can compare to a world class act like Deep Dish, playing live in Cape Town. Sometimes when you are at a club you dance for the sake of it, but at Deep Dish people could not help but dance.
We were quite entertained when the champagne came out because there we were, at the front near the DJ box, drinking champagne and thinking that this is possibly the best party we have been to this year. It's hard to describe the atmosphere at these parties, but the photos might tell another story.
The reason for writing about something like this is that you need to accept the invite to these parties. You need to be there.
Once again, we did not have to leave Cape Town to be entertained by the worlds best. And once again, another weekend was spent living the dream, right here in Cape Town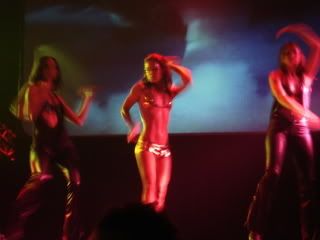 The dancers who we marveled at the entire night. Fantastic

Sean Lloyd

Editor