Rory Eliot and The Reason- Live recording
The first time I saw Rory Eliot playing live was at Sobhar in Cape Town sometime last year. My friends had been telling me about Plush for ages, and had invited me to many of the live gigs that they were doing around Cape Town. This was still in the time of Chas Smit, the lead guitarist who was tragically killed while crossing a street in in Pietermaritzburg in 2005.
I was unfortunate to have never seen this duo play live but I had read all the media reports surrounding Chas' death, and I had to see this band playing. They started playing nearly every Thursday for a period of time last year, and I made my way to Sobhar in Claremont nearly every one of those Thursdays.
The gig's started off pretty small and quiet but soon they were playing to a packed Sobhar, and more people were joining these gig's every week. And every week it seemed that we were having more fun. Some people would come through just to watch the show, then go home again as they were supposed to be studying. Such is the dedication of the fans of this band.
I believe part of their success is that they are so accessible. Every week before they play you will find Rory and Ben chatting with the crowd. Every week is the same, always a smile, always a laugh and after the show they stay on to speak to everyone. And the crowd involvement is great as well, with Rory getting the audience to sing parts of the songs, and the audience wanting to sing most of the lyrics anyway. They are not one of those bands that run onto the stage drunk with a cigarette in their hands. And yet they have proven, without all of this, that they can play to a packed out club, and their music can make it to the top on our radio stations.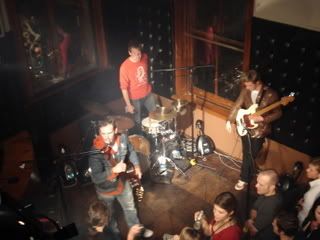 Rory Eliot and The Reason kicking it at The Bang Bang Club in Cape Town
You know they have a good relationship with their audience when you hear guys at Sobhar shouting "Ben we love you!" I'm pretty sure I have heard people saying they want to marry him, but let's not speak about that…
It's also great that they know and remember most of the people who go watch them, as they take the time out to chat to everyone.
So I was privileged to be invited to the Bang Bang Club on the 4th June to be part of their Grace Grew Tall music video live recording. The name has changed from Plush to Rory Eliot and The Reason, but the energy is still the same.
Grace Grew Tall is their single which spent four weeks at Number 1 on the 5FM Hi5@5. I first heard it at Sobhar and I think everyone who was there knew it was going to be good. Sometimes you hear a song so many times that you come to like it. Others you hear once and immediately enjoy them. I believe that for a lot of people, the first time they heard it they would have already decided that it was a great song.
The Bang Bang Club seems to be the hot place to go at the moment and they are attracting quite a number of big names to play at their club. Arno Carstens, Lady Lea, Goldfish and The Dirty Skirts are some of the names that have played, and will be playing at The Bang Bang Club.
Bang Bang club is situated in Loop Street, Cape Town, and it was strange going in there to see that it was a club. The last time I was in that building was a few years ago for a casting, so to go there for a video recording was quite cool.
We were told that we had to really rock out for the video. We had to be jumping, throwing our arms in the air and just going a little bit mad. We were wondering how far we were allowed to take the acting though when we noticed two rather spectacular girls who were in front of our "crew", let us say. Adam was wondering if it would be rude to start dancing with these girls properly, as they were getting seriously close to us. We were packed into a small space between the stage and the track that the camera was rolling on. I was also wondering how far we would be able to take this "acting" thing. I realised my mind was taking it too far when I saw myself, in about two minutes time, nibbling on this girls ear. I think that goes beyond acting, and that's when I decided we should just jump around and shout a little bit.
It's strange that at 8pm at night, in a club in Cape Town, three band members are playing to a real crowd, while cameras film them and they call this "work" It seems this is the lifestyle to live! You don't realise how mad musicians lives are until you are there with them, experiencing first hand what their lifestyle entails. Whenever you see them playing live, they are actually working. They are living the dream. I was happy to be a part of the recording, as for me it also counts as work. Obviously without all the girls and marriage proposals. And girls. And girls.
News last night was that Louis Roux, the bass guitarist, is leaving the band. Rory mentioned that the video recording was his last show, so it was good to be there for that. We wish him luck for his next career move, where his interests no doubt lie.
We will definitely be at the launch party for the video, where I'm sure I will be able to see the back of my head and my left arm waving somewhere in the video! I can't believe it…maybe my arm will be on MTV.
I knew I would be famous one day.
For more information on Rory, Ben, Louis and the band, you can visit the following links:
If you are on Facebook, search for the group "Rory Eliot and The Reason Gig Guide"
Thanks to the band for having us round for the recording last night and we will write up on this again after the launch party for the music video, where I'm quite confident we will get a few questions in with the band.
Sean Lloyd
Editor