The Cape Argus Cycle Tour 2009 experience
I do hope you're not reading this in the hope of finding out the intricate details of the Argus Cycle Tour, because if you are, you may find yourself in the wrong place. I won't talk about the winners because that would mean that I am talking about hot guys (Literally) in spandex. Not my vibe.
So who did we see at the 2009 Cape Argus Pick 'n Pay Cycle Tour that we though deserved a mention? I'll tell you who. Hot birds! Check, check, check it to the max.
Firstly we had this doll arrive right in front of us (At the Mount Rhodes entrance) and just pose there, for about an hour while I graciously scanned over her curves.She stodd in this pose the whole time, like she has prior modelling experience. You know, hips curved sort of vibe. One foot out. Shit hot.
 SICK!
I did notice that she is married, and she was probably waiting for her husband. NEVERTHELESS, she was in public domain, and for that we reserve the right to take her photo and study it in detail, at our will. Crisis in my life, I've never seen so many guys stare at a girl in my life. Bike riders were coming past and ust staring, and when they knew we knew they were stared, they had a good laugh! It could also be that her apron she was wearing had a picture of a chicks body in lingerie.God knows I was staring! From my perch.
If you're hot you can perch on my branch, you know…vibes.
Second hottie of the day was Ed Hardy chick.
SWEET!
This MILF (I assume) was prancing up and down Suikerbossie wearing all Ed Hardy stuff. Now either she has just come back from Thailand where little Thai boys made this fake clothing at a cost of $1 per thousand items of clothing, or she is wealthy and bought it at the V&A Waterfront. I'd like to believe she bought it at Ed Hardy at the V&A Waterfront. That makes her wealthy, and wealthy chicks are attractive.It's not that I'm shallow…it's just…it's just…WE'RE IN THE MIDDLE OF A RECESSION! A man needs to think aobut money issues!
There were also these chicks, positioned next to us who seemed alright.
Then some dude and his chick.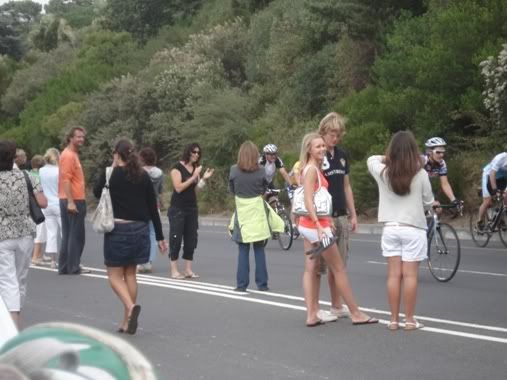 Nice one buddy, she is a keeper. Don't cock it up by thinking you can pull a hotter bird. I studied you two and you are playing out of your league. Don't try be a hero and try pull that doll you have been scoping at Caprice. Go for a more settled lifestyle, you're not a rock star. Play the game safe, don't throw all your chips in.
And lastly, I was there. Just chilling, while the riders strained past me. I think I had the right idea, and the only way to spend the 2009 Cape Argus Pick 'n Pay Cycle Tour was to lie in the road, on Suikerbossie, and throw out a sick vibe.
"No I'm just chilling babes"
Sean Lloyd
Editor