Saturday porn fest on Clifton
Jeez Louise you would have lost your mind on Clifton on Saturday!
Firstly, we arrive thinking "Rad, we are going to pull into all the chicks on the beach without fail. They will see us and want us" Oh no, we were wrong!
Enter Mr Tank Man, Mens Health Look winner and USN man on every page of Mens Health, Mark Pearce. I kid you not, he is ripped like an animal. So while we were sitting around trying to come to terms with his rippedness, everyone at the beach was staring at him. And when I say everyone…I mean EVERY-ONE. I took a look at the crowd and they were all just staring at him. Not ideal, unless you are him.
Anyway take a look at this picture of the mess of people on the bee-atch:
And this one: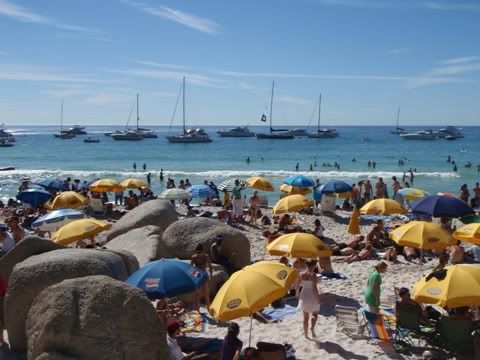 Cape Town's elite laughing on their boats and yachts, laughing at us plebbs on the beach
As you know, the storms a few months back have cut the beach off by quite a large amount but there are still the same amount of people visiting the beach, resulting in a monumental fest of people. We had this chick with the smallest bum in the world sitting right next to us. So we chatted her up and the reason she had bum like 16 year old is that she was 16 years old! She's got my number, I told her to call when school is out forever.
Other than that we had a pretty standard Saturday amongst the Cape Town crowd.
Oh there was also this picture:
Our current vibe at the moment.
Sean Lloyd
Editor