The Bar Rouge/Camel party
I had sent in my invite for what I believed was going to be one of the maddest parties in Cape Town. It was organised by the same crew who thrilled us at The Deep Dish party. After waiting the entire week to see if I was in, I received an e-mail telling me that I was in. I was later sent an sms by the organisers with my unique code for entry.
"This is how a real party is organised!" I thought
However, I lost my phone on Friday night(Friday 3 August) and in so doing, lost the sms! Not to fear, they would know who I am by doing a check on their computers. The party was held on the 4th August.
The venue was Bar Rouge, Heritage Square, Shortmarket Street in Cape Town and it was looking good. Walking in I was greeted by a bouncer at the door, and after getting past him I strolled over to one of about 6 people who were stationed behind Apple Mac computers(They were going all out here)
I told the girl at the computer that I had lost my phone and the sms confirming my entry.
"No problem, can I please have your phone number"
I gave it to her.
"Sean Lloyd?" She asked
That's correct sweetheart, that's correct.
"That's me, thanks"
She then directed me onto another person who clipped a wristband onto my wrist(Obviously) and gave me R50 worth of drink vouchers, and then I walked past another two bouncers.
I had arrived, this was it! I was impressed. This is the type of party I want to go to, one where not just anyone can stroll in. I want to be mind blown upon walking in. I want the organisation to be the best, and I want a crowd there who are going to want to party HARD. I also don't want some stupid DJ playing CD's at the decks while trying to chat up every girl who comes up to the DJ box. I want a DJ who is going to be mixing it up old school. And this is exactly what I received. The invite said it would be a battle of the DJ's, and that it was.
Walking in there was a bar to my left and a bar straight ahead and the service was quick and sharp. No waiting around for drinks orders, as they had not over packed the venue with people. It was a nice mix of class and good numbers.To my right there were two doors leading to an outside section where the DJ's would be battling it out. It was sick!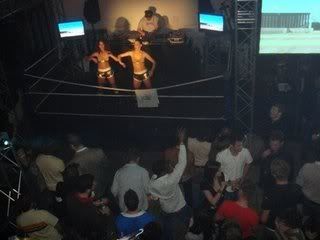 The rumble in the jungle
They had set up the DJ's in a boxing ring, complete with the ring girls dressed in GOLD HOTPANTS! Just like the Deep Dish party, and just like Kylie Minogue! They obviously had two DJ's in the ring at a time and while they battled it out, I decided to ascend the stairs at the outside section. I walked up them, looking around to see if I could spot some naughty girls to chat to and naturally impress. When I got to the top, there was yet another bar! This one was huge, stretching along the entire wall. The upstairs section was awesome as it was a balcony and we looked over the DJ's battling it out, and the girls dancing. I mingled upstairs for a while, and I'm not sure where parts of the night even went. I had arrived with Charlie V and my brother, and we had met up with our Entourage, who happened to be seriously good looking. Including two hot sisters! Who have boyfriends…sigh.
Just chilling with the sisters- Hello!
So I was mingling around in a bit of a vodka daze, when myself and Charlie V decided to sit down on a couch overlooking the DJ ring. After that I am not too sure what exactly happened, but Charlie started chatting to some naughty girl and I don't even really remember seeing her at that time. What I do remember is that Charlie seemed to be gone for a long time. Apparently I had disappeared and was chatting to one of the sisters. I have no idea what I said. All I remember is commenting on her tattoo, which was in QUITE a spectacular position.
Things then started to go wrong when I heard the cops were shutting the party down. I naturally thought that this was a joke, as it was a Camel sponsored party. Anyway, I can't remember saying goodbye to anyone but the next thing I knew we were partying at Wadda and Tiger in Claremont! I don't really have too many things to say about the party because it never really got started. I believe it was shut down just after 12pm!
The problem here is that the last party we went to was better than we had expected. All these parties are free, and I suppose when something is free, you don't expect it to be good! But Camel really go out big with these parties and spend huge amounts of money on the organisation. They had given us free drinks upon entry, entrance was free, the whole venue was hired out, cigarettes were free, they had hired dancers and DJ's for the night and we even had Cokey Falkow the comedian as the ring master for the evening. This kind of planning is not cheap.
So to whoever the guys are who work at Camel….someone is fired. The party was shut down due to residents nearby complaining of noise. Now to me someone should have been aware of this in the first place. Either the people who worked on the organisation side for Camel should have scouted the venue out and checked that there were no residential areas nearby that might be affected by the noise. They are event planners, this is their job! Get it together people.
Secondly, the owners of Bar Rouge should not have let their venue be rented out for a party of this magnitude. Surely they must have known that residents would complain? You cannot tell me no one knew about this? So I'm guessing that some people who worked on the event planning for Camel for this party, should find themselves out of a job this week.
And this is fine. Camel must have spent ludicrous amounts of money to give us this party, and we did not have to pay for anything. Other than the money spent on planning the night, it gives the Camel brand a bad reputation as people think that they cannot organise a party.
To me what the organisers need to do now is send us all an e-mail, apologising for what happened on Saturday. I have not received one yet, but I'm sure I will. Any respectable company would do this, and recognise their mistakes, and tell me that someone is fired. The owners of Bar Rouge also need to send out a little apology for letting their club be used for this party knowing that residents nearby might complain. It just seems that they have let themselves down this time. Not to say I won't attend the next party, because I know how good they can be, but it is a bit disappointing. Also, to the people who attended one of these parties for the first time, they are not going to be impressed worth the Camel brand, and it's associated people who let this party go ahead.
I will keep you up to date on what they have to say about this whole mess.
UPDATE: Still no word from the organisers, UrbanWave, about what happened. Disappointing…
Sean Lloyd
Editor